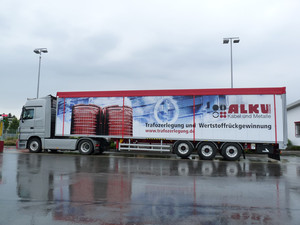 EXPERTISE OFFERED
Nowadays it is becoming ever more important to preserve our resources: that is precisely why we attach great importance to recycling the various materials with which we work.

The relevant materials submitted by your company are weighed upon delivery and then given a first visual check by our experienced and trained staff.

After unloading, the quality of the material is defined more precisely; any unwanted materials (dirt, other quality-grades than those of interest, etc.) are separated out. Here too, as is always the case with our company, each working step is carried out according to statutory environmental regulations and the stipulations in force for specialised waste management companies.

We prepare the types of material as far as the stage at which they can be used directly in the processing. The elements of waste are reworked by our customers - (iron and steel works, producers of new metal, smelting works), with whom we maintain a very good relationship, spanning many years – into new raw materials.