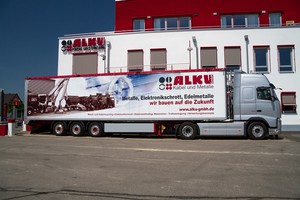 COMPANY
The supporting pillars of our company are efficient working in a good working climate and environmental protection, for satisfying our customers.
The backbone of our company is a highly motivated and committed team, ensuring that all procedures function smoothly and that everyone produces top-level performance. It is very important for us that our workforce enjoy what they do, yet also exercise the greatest of care. From the outset ALKU has been a family company, in which everyone rolls up their sleeves and pulls in the same direction.
In doing so it is a matter of course that colleagues interact in a respectful and considerate manner. This friendly relationship is not just for working hours, it is continued into leisure time. We are devoted to our home region and committed to ensuring that traditions are not simply forgotten. In addition we do everything to maintain values such as friendliness, punctuality, esteem for others and mutual trust.
We believe in our employees and in their abilities. Thus individual responsibility and working independently are the order of the day in our firm. Our staff put their heart and soul into their work: that way, everyone contributes their part to the continued development of our company. It is only through industrious workers with a capacity for enthusiasm that we are in a position to improve, day in and day out. Demanding situations are discussed in the team and ultimately they are solved jointly: a willingness to help and tolerance are indispensable in this. We are all in agreement on this point and therefore we all tackle our work as a team.
This friendly working climate is also reflected in the way we interact with our customers. We attach great importance to a friendly and, above all, a personal contact: we are available for our customers at all times for questions, wishes or suggestions. This is the only way we can offer you the best service. Each order is processed by us individually and thoroughly, so as to match the specific needs in each case: we do this so as to be able to guarantee you the fullest satisfaction.
We ensure a high level of security as our entire company ground is protected by video surveillance, alarm systems, access control and a fire detection system. All security systems are up to the latest technology at all times and receive regular maintenance.
Yet nature is also an enormously high-priority issue in our firm. We are always striving to maintain it and protect it. Our work, primarily the recycling of the greatest range of materials, enables us to make a contribution to environmental protection, which is very important to us.
Key Company Data
Name: ALKU GmbH
Year of foundation: 1983
Company Location: Hans-Böckler-Strasse 6, 93142 Maxhütte-Haidhof, Germany
Company Management: Matthias Lang, Hermann Bindig
Legal Form: GmbH (limited liability company as defined by German law), Amberg local court, registration no. HRB 2737
Value Added Tax Registration Number: DE 206405252


Certifications (please click here for further information about our certifications)