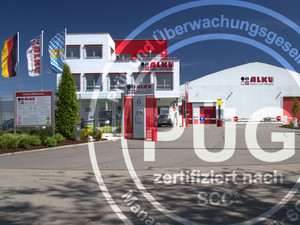 CERTIFICATIONS
Our company holds the following certificates:
Specialist disposal company
Specialist disposal company according to § 56 ("KrWG"), legally defined in Article 2 of the Ordinance on Specialist Disposal Companies.

Primary Treatment Facility (ElektroG)
Certified primary-treatment facility for WEEE according to the Electrical and Electronic Equipment Act ("ElektroG").
WEEELABEX
WEEELABEX (WEEE LABel of EXcellence) is short for a co-funding project from the EU to develop a Europe-wide standard for the auditing of recyclers of waste electrical and electronic equipment.
In the accredited WEEELABEX certification system meanwhile all previously published CENELEC standards have been fully implemented according to EN 50625.
Specialist for file and data destruction (DIN 66399)
Work safety - SCC* certification
According to the SCC rules and standards ALKU GmbH received the Safety Certificate Contractor (SCC*) certification in regard to the labour protection management system by the PÜG (Prüf- und Überwachungsgesellschaft - a testing and inspection company).

Quality Management according to DIN EN ISO 9001:2015
Environmental Management according to DIN EN ISO 14001